Every time I enter a craft store I could and do go nuts. But whenever I enter the Bead aisle I suddenly get hit with nausea, discomfort and impaired to not being able to think. Between all the options (in which none are exactly what you're looking for) and the child nearby screaming because they can't touch any of the interesting shiny things (which may or may not be one of my children), I become delirious and start grabbing everything that are the makings for half of ten different pieces. sigh.
Well, This time I went in with some-what of a plan. I should say a general idea that I anticipated of needing to compromise on. I knew I wanted to make something chunky, because after-all I'm a sucker when it comes to over sized jewelry. In my head, I convinced myself that a huge necklace makes up for not being able to wear earrings (baby + dangle earrings = definite disaster) and the fact that jewelry on myself is a rarity that when it does go down, I have to make sure someone [Matt] notices that I actually made an effort away from my over sized sweat shirts and skinny jeans... Anyway back on topic, I also wanted to do something flower related. I'm all about floral right now, love it and love it all.
I was really hoping to find wide AND flat teardrops beads... nope (of course). So I settled with thick and long tear drops. They only had a few color options, so I decided to go with the clear beads and used finger nail polish to change the colors to a white and soft pink, in order to give it a little color but still some-what neutral. I also grabbed beads that I had no idea what I would do with, because I have a problem.....but that's a different post about hoarding.
So I went home and started painting, cutting, bending, trying, snipping, retrying and resulted with this new beauty! Isn't she pretty? [the necklace, not me of course!]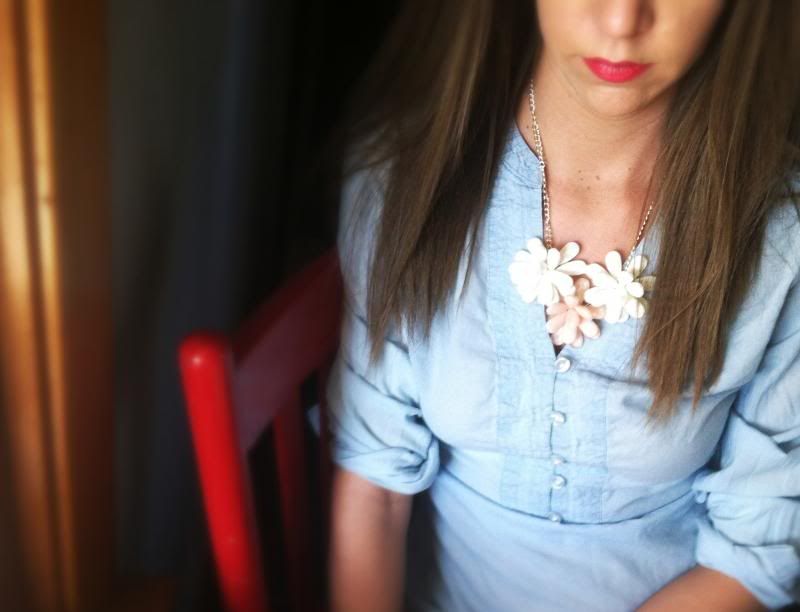 Now, this leaves me with this to say, this is my first tutorial (yay! exciting!) but if there is anything I need to clarify please let me know! This post is going to be packed full with photos to follow along to, but If something is unclear don't hesitate to ask!
Supplies:
45 teardrop beads (15 per flower)

Wire

Jewelry Pliers

2 Eye Pins

Chain

4 Jump Rings

1 Clasp

Jewelry Glue (depending on the beads you choose, you may not need this, you will see later why I needed this)