Waking up has been kind of my thing lately. Not that life is giving me a ton of sleep which involves a lot of waking up, it's not. Waking up as in I've been awake (I think?) and my main priority is to stay awake, you know in order to do that talking stuff.
Hanging out also has been the thing to do around here. With it 30 degrees outside,
okay..
I'm sure Matt would argue this, but I don't care what the weather man says; If it feels cold to me, then it's freaking cold. Anyway, while on my "I obviously need to wake up again for the fourth time this morning" rant, the cold weather is preventing us from getting out as often, so we have been doing a whole lot of nothing. Henry who has been spinning in circles the past 5 minutes doesn't seem to care. Harper is following lead wearing a hat walking in circles... sorry children, Mommy is waking up.. again.
Yesterday, was awesome. Henry was in Preschool, which in turn meant Harper was able to sleep in, and I was able to fully wake up with my beloved coffee and be all proactive and stuff. If you follow my
Instagram
you may already have an idea as to what I whipped up yesterday...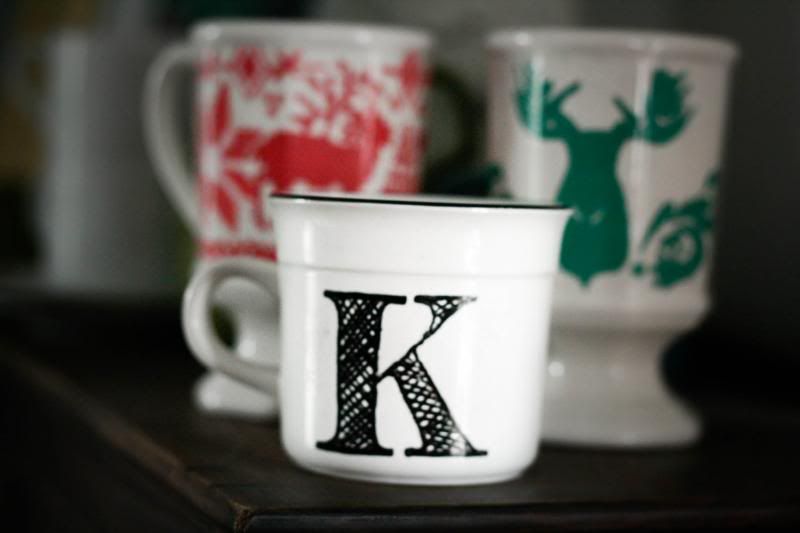 Going with the routine of waking up, I thought mugs were appropriate. Well, maybe logical. This year I wanted to get a head start on my handmade Christmas gifts, so I got a hold of nine blank mugs in different colors and styles (I've only completed three thus far), and just started toiling around with them. I have to say, I didn't expect to enjoy it as much as I did, but I did. Now these are going to be tough to give away!
I'm not going to do a full tutorial, because there are so many great ones already out there (
Pinterest
), but I'll fill in on the details of what I used and what worked and didn't work so well for myself.
I
did not
use permanent markers. I have heard one too many mixed reviews about that method to even bother. I ended up finding some oil-based paint markers at the craft store (I used
these
) that I wanted to try out. --honestly I haven't found someone who used these online so this is an experiment, I dove in completely blind with this one --The marker itself doesn't say porcelain or glass, but in the fine print on the back of the package it does say they could be used on such items. I'm hoping since the glaze on a mug is melted glass, then fingers crossed these markers will do the job. So I'm testing them out, and I will update in a week or two to let you know how these held up. So far I have high hopes, because there was no erasing of any mishaps.
One thing I noticed while using these markers is they only works well with ONE COAT. I noticed the areas I went over twice, they somewhat melted/smeared when they go hot. But I had no issues in the thin areas that I only drew on once.
I did bake them for 30 minutes on 360 degrees by placing the mug in the over BEFORE turning it on to preheat, and I left the mugs in the oven for a few hours after baking in order to let them gradually cool off. This prevents cracking, shattering, blowing up (whatever it does I didn't want to find out).
To make the mug with my initial (I'm totally keeping this one!) I got inspiration from
Design Mom.
She does a great tutorial. But instead of using transfer paper, I free handed the k on the mug using a dry erase marker first as a guideline. This worked great, but I would only recommend using a dry erase marker first when using a black marker. Flakes of the dry erase that get left behind can get trapped and will show through color markers.
For the moose mug. I somewhat used the ideal of transfer paper mentioned above (
Design Mom
), but I didn't have transfer paper on hand. So I drew out the design on paper (you can most certainly print a design out), flipped the paper over and covered the paper with a pencil. Then I taped the paper on the mug, and retraced the moose. The lead on the reverse side transferred beautifully on to the mug. Then I filled it in with a marker. This method works best on a light color mug.
The Christmas sweater mug was my favorite to do! For this one I free handed the whole thing. I searched online for Nordic patterns, cross stitch patterns, traditional Christmas sweater, etc. Picked out bits and pieces images I saw and liked and drew them on the mug with no rhyme or reason.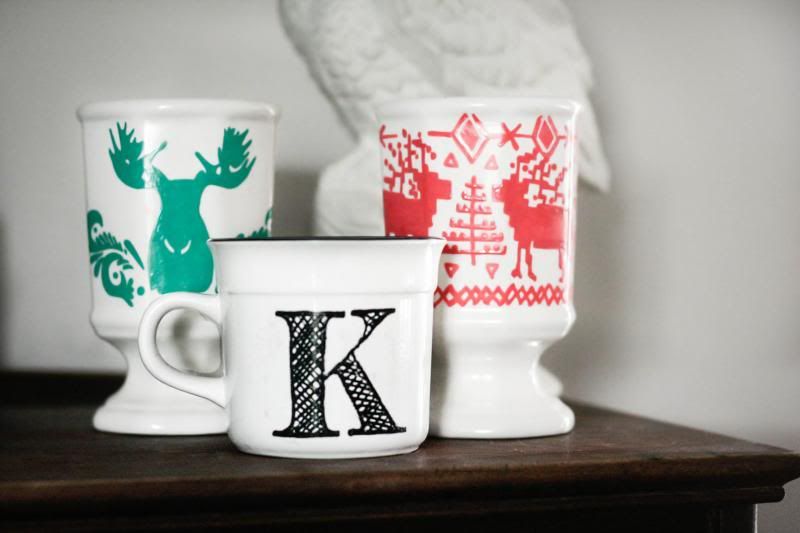 and finally, a very serious cookie dipper.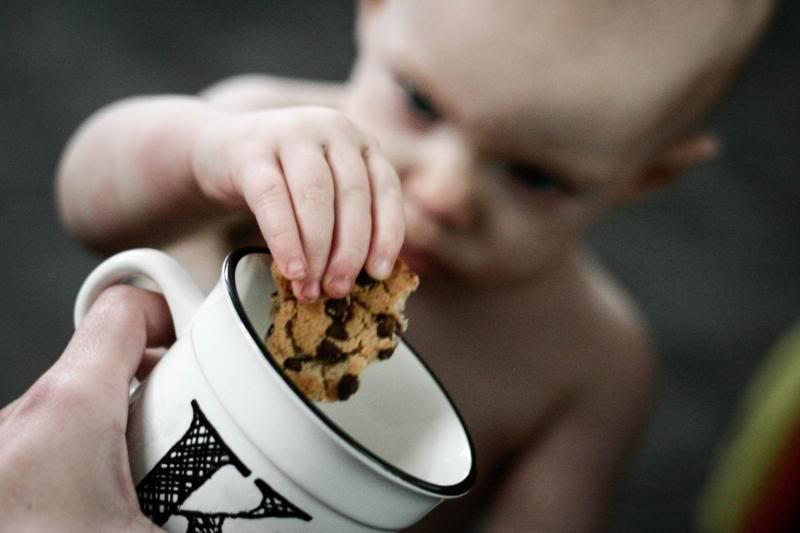 Blogs I link up to
:
sew can do,
not just a housewife
,
the gunny sack,
cupcakes and crinoline
,
homemade ginger
,
snap creativity,
Moonlight & Mason Jars,
someday crafts,
52mantels,
live laugh rowe,
craftionary,
jennifer Rizzo
,
shabby nest,
diy showoff,
raegun ramblings,
artsy fartsy mama
,
domestic superhero
,
five little chefs,
mandatory mooch,
living well spending less
,
whats cooking love,
4you-withlove,
i love my disorganized life,
lady behind the curtain,
the diy dreamer,
nap-time creations
,
Liz Marie Blog
,
i heart nap time
,
link party palooza
,
CRAFT
,
my repurposed life