I don't get "Fall" people. Fall to me is a reminder that Winter is around the corner, and don't get me started about "snow lovers." They make me sick. But Fall merely robs me from being warm, and boy do I love being warm. I miss my beloved Summer. This is the time of year when Matt and I get in a war over the thermostat.... [yes Matt, if you're reading this I do in fact know when you turn the heat down!] I always win.
I don't understand making everything pumpkin flavored either. Have you seen the inside of a pumpkin? I don't want that in my latte.
I don't get football, nor do I enjoy watching it. So with that said, Fall you robbed me from my Sundays as well. You robbed me from being able to be lazy and have a conversation with Matt.
You rain too much. And it's just not here and there, because that would be acceptable. It's always a downpour at the most inconvenient times for two days straight. Really? Nobody likes wet leaves. And dare I even bring up how early you get dark out. So fall, you robbed me from my vitamin D.

One thing I can say though, Fall you're a looker. Your golden colors make up for killing all my plants I've slaved over since April.
However, I do want to say, "thank you" (I bet you weren't expecting that!). In your attempts to make me uncomfortable, you are the time of year that brings our family closer together and reminds us what we are thankful for.
During October we have had lots going on. I'm exhausted just thinking about everything!
This past month, we had a big celebration for our daughter's first birthday. It turned out amazing and we could not be more grateful to friends and family who love both our babies. I still can't believe she is already one! It has been a whirlwind of a year, that flew right on by. She has brought joy to our family. And she truly is One of a Kind. My little sidekick. My best friend. I love you baby girl!
Matt and I drove up to Columbus with my Sister and Brother-in-Law for a night to see Anthony Jeselnik. It was a great time, and nice to get away for a night to have fun that entailed actual adult conversations (yes!). We discovered that when you order a drink from a bar in Columbus, something completely different magically appears in front of you that is straight liquor. We were completely fine with that. And I got to spend time with my sister. It's so amazing that while we have our own families now, we still make time for each other.
Matt had his birthday. He's getting old. (Love you babe!)
We got Henry his very first gas powered four wheeler! (tell me when I can breathe! gasp!) Matt was so excited to get this for Henry. And boy does Henry love it! I was extremely weary at first. But once I got familiar with this mini quad, I'm quite impressed. We are able to set the top speed. It comes with a remote that allows us to shut it off at anytime without actually having to be on it, and there is also a pull in the back that will shut it off. So it is completely safe for our wild man. I should mention, Matt has been riding quads since he was three, so Henry has an excellent teacher.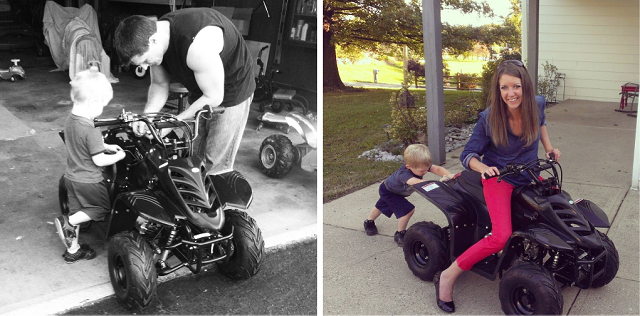 You treated us well October.
Hello November.